Giving Back to Education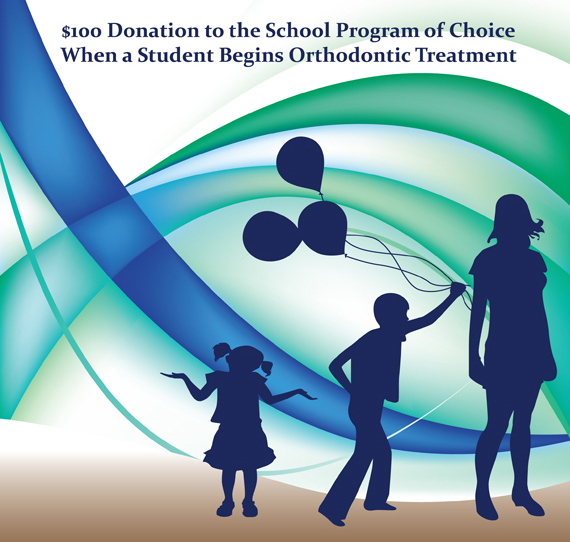 I am pleased to tell you about the Giving Back to Education program my office has initiated. I am donating $100 to the school program of a student's choice whenever an elementary, middle or high school student begins orthodontic treatment as a new patient. I believe this program will promote a positive community spirit while allowing young people an opportunity to become acquainted with the value of giving back.
I have provided orthodontic treatment to the children and adults of the Central Valley for over 25 years, am passionate about my profession, and am grateful for the relationships I have developed with my patients. While I strongly believe orthodontic treatment can significantly improve the welfare of individuals, I also recognize the importance of education and community involvement for young people. The Giving Back to Education program will not only support education and aid in funding shortfalls that exist in our school systems, but will also engage students in their community by allowing them to actively support a valuable program for which they are passionate.
If you have any questions, please call (559) 435-6465 and ask to speak to either Jamie, Peggy or Courtney.
Recipients
Clovis Unified School District
Clovis North H.S. - Fine Arts Program, Girls' Soccer, Art
Reyburn Intermediate - Agricultural Exploration Program, Science Olympiad, Soccer
Copper Hills Elementary - P.T.A., Mr. Papendorf's 6th Grade, Football Team Fund, Destination Imagination, Cross Country Team
Fugman Elementary - Library, Mrs. Rapier's 2nd Grade, Baseball Equipment, G.A.T.E., Softball, Tech Lab, Wrestling
Bud Rank Elementary - 3rd Grade Teachers: Mrs. Campbell's and Mr. Nixon's Classrooms
Clovis West High School - Baseball Team, Theatre Arts, LMC, Choir, Soccer, Football
Alta Sierra Intermediate - Soccer, Basketball, Library, Teen Living, Special Ed Program, Boys' Choir
Fort Washington Elementary - Track, Sports Program, LMC
Pinedale Elementary - Cheer Team
Roger Oraze Elementary - Choir, Football, 2nd Grade: Mrs. Darter, Library
Cedarwood Elementary - 4th Grade Teacher Mr. Zalky, Wrestling Team, Science Program
Clovis High School - Dance, Auto Shop, Veteran's Support Club
Granite Ridge Middle School - Leadership, Library, Baseball, Special Ed, Orchestra, Teen Living/ Mr. William's Class, Band
Kastner Middle School - Track, Choir, Girls' Soccer, Baseball
Garfield Elementary - Softball Team
Freedom Elementary - Music Department, Softball Team
Cole Elementary - Music Department, P.E. Equipment
Woods Elementary - Sports Program
Maple Creek - Kindergarten
Red Bank Elementary - Room 13, Mr. Tschappler's Class
Clovis Elementary - Library, Mr. Penning's 6th Grade
Valley Oak Elementary - Football
Jefferson Elementary - Mr. Wulf's Class
Clovis East High School - Robotics
Reagan Elementary - Cheer Team
Buchanan High School - Soccer Team, Choir
Fresno Unified School District
High Schools
Hoover High School - Tennis Team, Cross-Age PE
Bullard High School - Criminal Law, Aquatics, Cheer, Drama, Special Ed, Soccer Team, Golf, Baseball, Basketball
Roosevelt High School - Cheer
University High School - General Fund
McLane High School - Leadership
Design Science High School - Deborah Hennel's Class
Middle Schools
Edison Computech - Art, Boys' Water Polo
Tenaya Middle School - Sports, Cheer, Golf, Video Production, Science Program, Geometry, Mrs. Cardinale's Class, Baseball
Baird School - A'OK Club, Classroom Projector, AVID, Yearbooks, Science Camp, Hip Hop, Library, Music
Kings Canyon Middle School - Sports
Ahwahnee Middle School - Science Program
Elementary Schools
Gibson Elementary - Library, Music, Rm. 21
Figarden - Mrs. Silver's 4th Grade Class
Forkner - 4th Grade, Mrs. Stambaugh's Class, Mr. Lang's Class, 6th Grade, Library, Student Council
Malloch - Basketball, Fund Run, Library
Manchester Gate - Science Lab, Orchestra, Mrs. Stolpestad's Class, 5th Grade, Art Program, Music Program, Band, Art, Boys' Athletics, Mrs. Ullner's Class, Mrs. Riding's Class
Bullard Talent - Band, Concert Choir, P.T.S.A., Orchestra, Music Department, 5th Grade, Mrs. Bishop's Class, Art Program, Mrs. Koontz' 5th Grade
Thomas Elementary - Speech Therapy
Centennial Elementary - Art
Dailey Charter School - Physical Education Department, Art
Yokomi Elementary - Mr. Gonzalez' Class, Band
Starr Elementary - Library
Wilson Elementary - ASP
Kratt - After School Program
John Muir - Strings Program
---
Central Unified School District
Central East High School - Softball, Cheer, Mr. McFadden -Algebra, Grizzly Band, Basketball
Central High School - Cheer
Rio Vista Middle School - Library, Soccer, Senora Zweifel -Spanish Program, Leadership, Mr. Plank's Class, Sports, Swimming, Video Production
Liddell - Library, Cheer, Mrs. Papaleo's 2nd Grade: Classroom Supplies, Mr. Gutierrez' 6th Grade Class, Football, 3rd Grade, Sports
Harvest Elementary - Library
Polk Elementary School - Music, Band
Herndon-Barstow - Library, Miss Herrera's 6th Grade
Steinbeck Elementary - Laptop Program
River Bluff Elementary - Choir, Library
Houghton-Kearney Elementary - Swim, Band
Saroyan Elementary - Athletic Department, Band
---
Charter, Private and Parochial Schools
St. Helen's - Sports, P.E. Department
O.L.P.H. - Athletics, Science Lab, Family Contribution, Miss Forcey's 8th Grade Class
S.J.M. - Boys' Soccer, National Honor Society, Art, Cross Country, Volleyball, Boys' Basketball
St. Joachim's, Madera - 8th Grade, Athletics
St. Anthony's - 6th Grade, Basketball, Girls' Volleyball, Library, Drama Department, Music, Athletics Department
Maxwell West Academy - Ballet, PE/Arts
Immanuel Elementary School
Carden School of Fresno - Basketball, Middle School Social
MCIA - Art
Fresno Christian - Sports, Athletic Department
---
Sanger, Kerman, Golden Valley, Madera, Selma, Visalia, Sierra, Washington Union, Bass Lake Unified School Districts
Sanger High School - General Fund
Fairmont School - Fairmont
Washington Middle School - Library
Quail Lakes Charter- Cheer Team, Music/Band
Lincoln Elementary, Madera Unified - Mrs. Bowser's Class
Berenda Elementary, Madera Unified - Library
Thomas Jefferson Middle School - Digital Media
Oak Creek Intermediate, Bass Lake Unified - General Fund
Kerman Middle School - Sports, Library, Girls' Softball
Kerman High School -Girls' Soccer
Madera Ranchos Middle School, Golden Valley Unified - CJSF
Liberty High School, Golden Valley Unified - Band
Sierra View Elementary, Golden Valley Unified - Playground, Volleyball, Library, Drama
Jackson Elementary, Selma Unified - Field Trips
Foothill Elementary, Sierra Unified - 5th Grade, Special Ed. Program
Green Acres, Visalia Unified - Wrestling
American Union Elementary - Mr. Gomez